Difficulty Light
Intensity 2
Exercise mat, expander
Exercise based on regular repetition of basic yoga poses that are dynamically sequenced. It focuses on balancing muscle imbalances, shaping problem areas, stretching muscles and relaxing.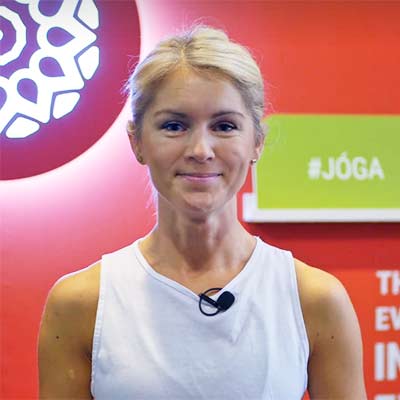 Instruktor skupinových lekcí
Ke sportu a pohybu jsem byla vedena už od mala. Před pár lety jsem hodně běhala a protahování brala jako nutnost. Až časem (po několika lekcích jógy) jsem přišla na to, že mi jóga dává mnohem víc. Před 6 lety jsem absolvovala kurz jógy (Power Yoga, Václav Krejčík), a od té doby mě jóga doprovází každým dnem. V józe mě baví se posouvat pořád dál, proto průběžně navštěvuji různé workshopy. Jóga není jen fyzická část, ale i duševní, propojení těla a mysly. Na jógu nedám dopustit , protože je to skvělý doplněk k jakémukoliv sportu.
Moje motto: "Dělej to, co miluješ, a miluj to, co děláš."