Difficulty Hard
Intensity 4
Exercise mat
High Intensity Interval Training (HIIT) These are short rounds of high intensity exercise followed by pauses for recovery, where motivation is based on overcoming physical and mental limits. The lesson is based on intervals to deliver maximum performance at each interval.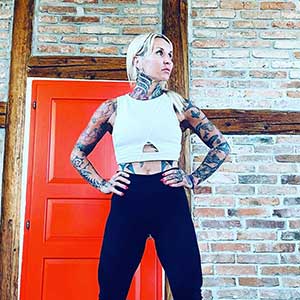 Instruktor skupinových lekcí
KOTALÍKOVÁ LENKA – KAHU
Vystudovala jsem Massey University New Zeland Wellington v oboru tělovýchovná fakulta a poté v ČR výtvarnou školu, což může být pro mnohé překvapení. V oboru fitness se pohybuji 25 let a to jako osobní trenér tak jako instruktor skupinových lekcí typu jóga, pilates, kruhové tréninky, intervalové tréninky, tabata a HIIT. Samozřejmě i já se věnuji LM a to programům Bodyattack, Grit, Bodybalance, Bodypump.